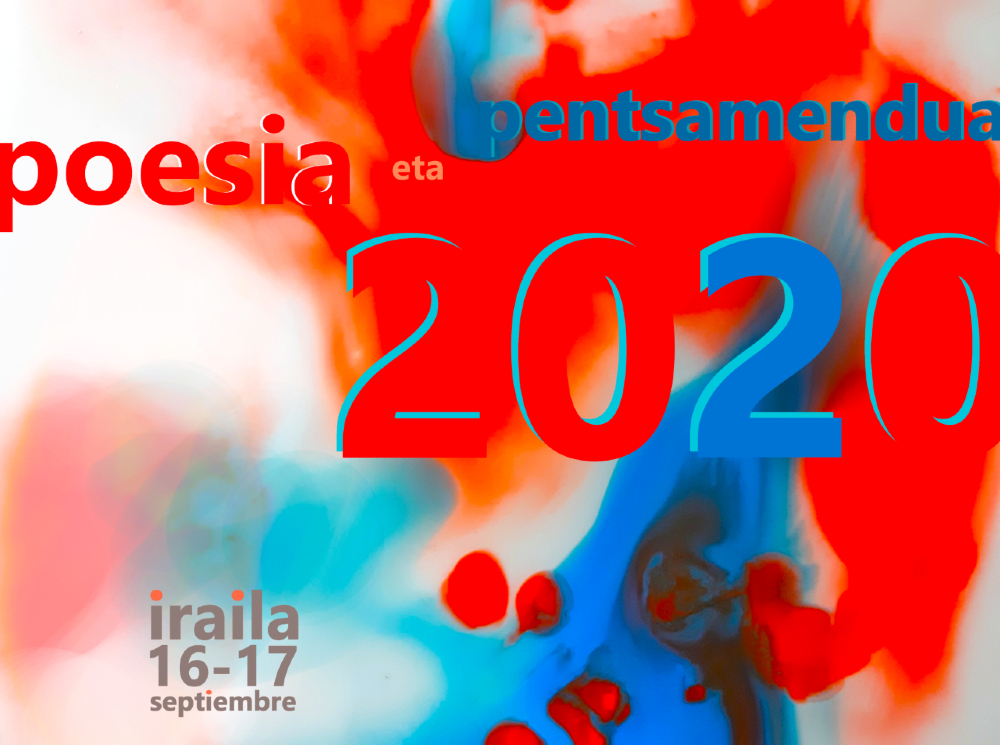 Chillida Leku becomes a setting of the practice of yoga. Participants will be able to start the day practicing this discipline surrounded by nature and the sculptures of Eduardo Chillida. After the session, they will enjoy a healthy brunch at Lurra café.
Las jornadas Poesía y Pensamiento han alcanzado la edición número trece. El año 2008 Felipe Juaristi, Juan Ramon Makuso, Pello Otxoteko y Aritz Gorrotxategi con la colaboración de Donostia Kultura dieron comienzo a este evento en el que han participado una larga relación de poetas.
Este año la actividad estará compuesta por:
Conferencia de Fernando Golvano: "Poiesis. Arte, poesía y filosofía en Chillida"
Recital de Eli Tolaretxipi y Luis Garde.
Música: Grupo "Haritan" ((Iratxe Paredes -Violonchelo; Jon  Makuso - Violín). Obras de J. S. Bach y  W.F. Bach
Fernando Golvano (Donostia, 1956) crítico de arte, comisario de exposiciones, ensayista y docente, y Doctor en Filosofía en el área de Estética y Teoría de las artes por la UPV-EHU. Escribe sobre arte en El cultural y en otras revistas como Exitbook, Exitexpress, Grand Place, Sublime y otras. Ha publicado ensayos, monografías y comisariado exposiciones sobre las vanguardias modernas en el arte (Chillida, Oteiza, Basterretxea, Amable Arias y otros) y sobre arte contemporáneo (Ameztoy, Garmendia, Zuriarrain, y otros). Asimismo ha publicado sobre la Teoría crítica en la filosofía, (Adorno, Castoriadis, principalmente) y es miembro del Instituto de Arte Contemporáneo y de SEyTA (Sociedad de Estética y Teoría de las Artes).
Eli Tolaretxipi (Donostia, 1962) poeta y escritora en 2012 tomó parte en la Olimpiada Poetry Parnassus celebrada en Londres.
Es autora varios libros de poemas: Amor muerto-Naturaleza muerta (Bassarai, 1999), Los lazos del número (Bassarai, 2003), El especulador (Trea, 2009), Edgar (Trea, 2013), Mira como se hunde, Incidental  (2017).
También ha traducido al castellano poemas de escritoras como:  Sylvia Plath (Mondadori, 1999), Adrienne Rich (Quimera, 1999). Elizabeth Bishop Norte y Sur (Igitur, 2002), Menna Elfyn El Ángel de la celda (Bassarai, 2006), Lydia Flem Cartas de amor heredadas  (Alberdania, 2007).
Luis Garde (Iruñea, 1961). Autor que se dedica tanto a la poesía como a la narrativa. En 2016 ganó el Premio Euskadi de Literatura con la novela Ehiztariaren isilaldia.  Para entonces ya tenía escritos varios libros de poemas: Oihan nabarra (Euskaltzaindia – BBK, 2004), Haize hegoaren aroak (Pamiela, 2007), Gertakarien urtzea (Alberdania, 2008), Unplugged (Kutxa Fundazioa, 2009), Maizter arrotza (Erein, 2013), Trenen abiadura (Pamiela, 2014), Eremuen birkalifikatzea (Pamiela, 2014), Barbaroak baratzean (Balea Zuria, 2017).
Chillida Leku
Jauregi Bailara, 66
20120 Hernani, Gipuzkoa
Info
9am
From 27€ hasta 30€